I have been pondering sharing my weekly meal plan on here for a while now, and decided just last night to take the plunge. After years of talking and thinking about creating a weekly meal plan, I have final got it nailed down. I will admit that it was a struggle at first, but the time it takes at the front end significantly recoups itself over the rest of the week. Not to mention I have been making great food that my family loves. My spice rack has tripled in size.
Through this whole process I have discovered how much I enjoy cooking and I love finding new recipes on blogs and Pinterest. I'll be sharing my current weeks meal plan, featuring one recipe that I will share. What are you having for dinner this week?
Monday: Spaghetti with Penne Pasta and Italian Sausage
Tuesday: Street Style Beef Tacos*
Wednesday: Chicken Pot Pie
Thursday: Sesame Pasta Chicken Salad (First time)
Friday: Pork Roast with Tangy Sauce (First time)
Featured Dinner: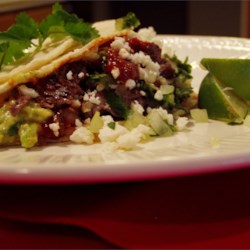 Photo taken from Allrecipes.com
This recipe is from Allrecipes.com and has been in the mix for a few years. I use the marinade portion and serve the meat on small flour or white corn tortillas topped with a mix of onion, cilantro and lime.
Get the recipe
here
and enjoy!